PALEDEC TO UNVEIL 2021 PAN AFRICAN CHANGEMAKERS AT THE 6TH PAN AFRICAN HUMANITARIAN SUMMIT
At the 6th Pan African Humanitarian Summit, PALEDEC will unveil the 2021 Pan African ChangeMakers to recognize Africans and Friends of Africa who have shown persistent and exceptional contributions towards building a prosperous, sustainable, regionally integrated, and globally competitive Africa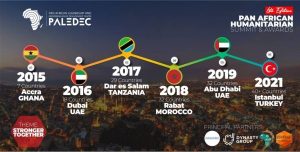 Africa has been the victim of political and economic marginalization for over 500 years. Africa has remained a developing continentdespite being one of the richest continents in human history. On this note, The Pan African Leadership and Entrepreneurship Development Centre (PALEDEC) was inaugurated to promote African development through inclusion, diversity, and unity.
As part of its commitment to foster the growth and development of the African continent, PALEDEC is thrilled to announce the 6th Pan African Humanitarian Summit, which is slated to be held in Istanbul, Turkey in November. The conference aims to discuss sustainable business opportunities to promote and facilitate international trade and Foreign direct investment in Africa.
Turkey was chosen as the venue of the conference to unveil the 2021 Pan African ChangeMakers after due consideration of Turkey's unswerving stance as a "Strategic Partner of the African Continent" and its progressive partnerships – going from 12 embassies and US$100 million in foreign direct investment in 2003 to 42 embassies and over US$6.5 billion in 2021, plus 51 African cities being served by Turkish Airlines.
Undoubtedly, Turkey has proven to be more of a friend of the African continent than many other countries, and it is gratifying to place an event such as this in the country. Entry into the 2021 Pan African Humanitarian Summit is strictly by registration, and invitation and COVID-19 protocols will be observed.